Authentic blends for quick meals
Making cooking- the labour of love,fuss-free!
Gone are the days when you had to break a sweat in the kitchen and master the art of blending exact ingredients to cook up a flavourful meal. Our versatile range of Simmer Sauces is a pack full of a melange of spices, balanced and blended to make your cooking experience quick, easy and effortless; all this at no compromise to the authentic taste of Indian cuisine.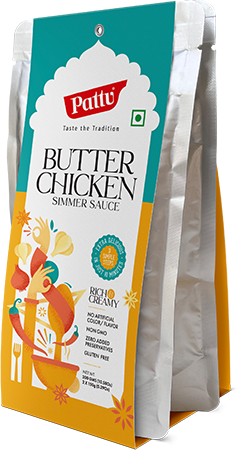 Butter Chicken
Available Sizes:
4×6×300g
A potpourri of strong spices, authentic flavours and rich aroma, Butter Chicken Simmer Sauce brings restaurant-style culinary experience right to your kitchens.
Tikka Masala
Available Sizes:
4×6×300g
Bring in the flavours of iconic Mughlai style Tikka Masala to your table in minutes. The perfect preparation for both vegetarian and non-vegetarian delicacies, it'll sure make you drool in its delightful taste.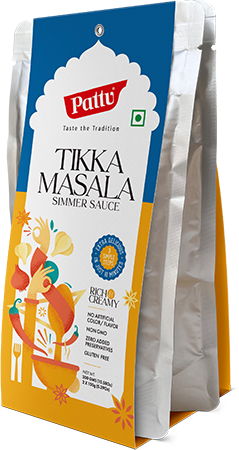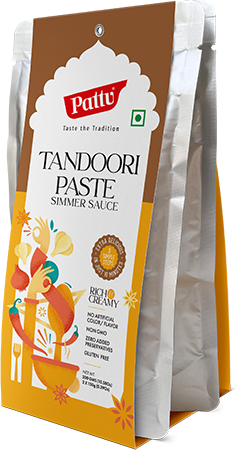 Tandoori Paste
Available Sizes:
4×6×300g
Skilful preparation of piquant flavours and pleasing aroma, Tandoori Paste is consistently rich and delish.This absolute party favourite shall make your guests relish it till the last morsel.
Rogan Josh
Available Sizes:
4×6×300g
A whiff of fresh Kashmiri flavours and deep spicy taste is what Rogan Josh Simmer Sauce is all about. Its unique, smoky taste shall remind you of your grandma's most treasured Rogan Josh recipe.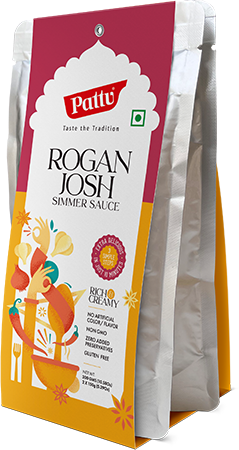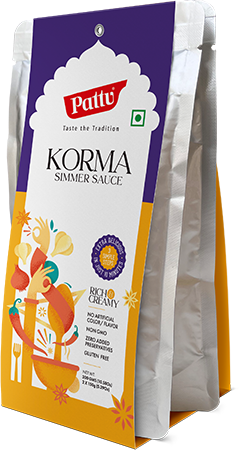 Korma Simmer Sauce
Available Sizes:
4×6×300g
Perfectioned to silky texture, balance of tender flavours and deep aroma, Korma Simmer Sauce cuts down the preparation time but not the experience of relishing a mouth-watering and flavourful delicacy.
Balti Simmer Sauce
Available Sizes:
4×6×300g
Balti Simmer Sauce is the perfect preparation for your wholesome comfort food. Densely flavoured and supremely delicious, this is an absolute favourite across all ages.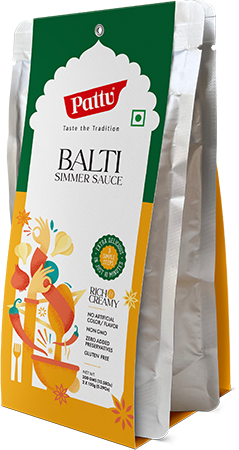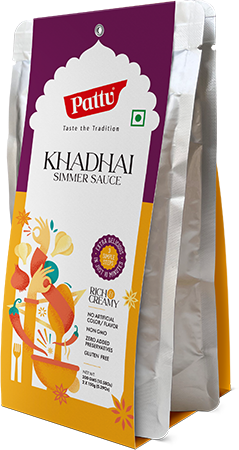 Khadai Simmer Sauce
Available Sizes:
4×6×300g
Welcome the flavours of restaurant-style Khadhai Paneer/ Chicken to your kitchen. What once was a fancy dish for festivals is now an easy go-to meal with Khadhai Simmer Sauce that makes cooking so convenient.
Jalfrezi Simmer Sauce
Available Sizes:
4×6×300g
Jalfrezi Simmer Sauce brings freshness of choicest chillies and peppers to make a flavoursome blend of strong spices. This will surely tickle your tastebuds with the best of flavours.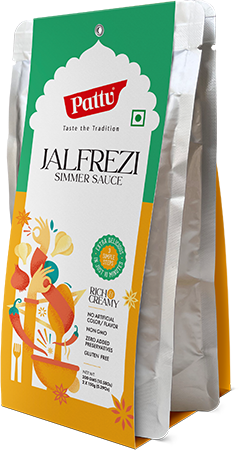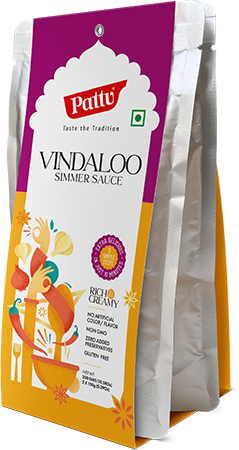 Vindaloo Simmer Sauce
Available Sizes:
4×6×300g
Vindaloo Simmer Sauce is for the ones who love a little extra spice in their meals! This fiery favourite is packed with hottest spices and strong aroma. We bet your palate can't resist having just a bite.
Goan Curry Simmer Sauce
Available Sizes:
4×6×300g
Goan Curry Simmer Sauce brings the authentic and fresh flavours of Goa to your plates. Easing the hassles of lengthy process and long preparation time, it helps you cook authentic Goan meals quickly and conveniently.